Audi Exhaust - Standard & Performance Sports Exhaust Pipes
Specialising in custom Audi exhausts, Audi catalytic converter (standard &amp hi-flow sports cat), decat (cat bypass), Audi downpipe, flexi pipe, middle section, rear section (backbox) & all other exhaust parts. We fabricate performance exhaust parts for all models, Audi 80, 90, 100, Coupe, Quattro, AllRoad, A2, A3, A4, A6, A8, S2, S3, S4, S6, S8, TT, RS2, RS4, RS6, Q7 & models not listed.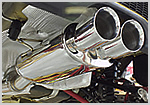 We fabricate OEM patterned performance exhaust systems in T304 stainless steel, our exhaust systems are bespoke & are built/setup for the individual, with the choice of sound (quiet, midsport, full sport) & looks (single & twin tailpipe styles). Our most popular choice for sound is a midsport setup, this gives the best of both worlds; a non intrusive sports exhaust note. All our custom built exhausts come with a lifetime guarantee, so why not pay once & never again.

Our Audi cat back exhaust system (mid & rearsection) can increase your cars performance by upto 10bhp, sports car exhaust setups can increase more than this.


5 Steps - Custom exhaust fabrication procedure:
Your vehicle is driven onto the ramp & your current exhaust system is removed.
Discussion & walk through of the exhaust setup & selection of tips to suit the rear.
Complete fabrication of the exhaust system to the discussed spec (approx 2 hrs).
A walk through with you of the new exhaust setup & Photo's for web gallery taken.
Finally your complete satisfaction approval, paperwork completion & your ready to go...
Feel free to relax in our customer lounge whilst we build the exhaust for your Audi. A typical cat-back system which comprises of a middle & rearsection (all pipework & exhaust boxes) takes no longer than a couple of hours from start to finish.

For more details on our Audi exhaust parts please submit your vehicle details & requirements on our online form today, we can quote & advise you accordingly.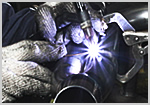 Various research &amp development techniques have been put into place by us to give your Audi the best exhaust setup. With consideration to engine capacity & engine modifications we fabricate an exhaust system for your car to suit & perform perfectly.

All our exhausts are free-flowing, that means there are minimal restrictions within our exhaust silencers/boxes & minimal bends to allow faster exhaust gas release, resulting in lower pressure for maximum performance, sharper throttle response & more torque. Your standard Audi exhaust will have restrictions within the exhaust silencers/boxes, these are known as baffles & chambers, one of the aims of these type of exhaust boxes are to reduce the sound level with chambers, intersections & sound absorption material. This gives a negative effect on the travelling direction speed of the gases; causing them to slow down & delaying the process hence the performance gain with our free-flow exhaust. Our Audi exhausts give you more performance & better driveability.

Its not just about replacing your exhaust, what we aim to achieve is complete customer satisfaction. We advise & share our experience to give you a superb exhaust system with all the added benefits.


Learn more about us: Magazine Features & Customer Feebacks.


We offer a quality & affordable service for all customers local or national (UK & EIRE), specialising in car exhausts (custom built exhausts, catalytic converters, downpipes) & car remapping:
Aberdeen Armagh Bangor Bath Belfast Birmingham Bradford Brighton & Hove Bristol Cambridge Canterbury Cardiff Carlisle Chester Chichester
Coventry Derby Dundee Durham Edinburgh Ely Exeter Glasgow Gloucester Hereford Inverness Kingston upon Hull Lancaster Leeds Leicester
Lichfield Lincoln Lisburn Liverpool London Londonderry Manchester Newcastle upon Tyne Newport Newry Norwich Nottingham Oxford Peterborough
Plymouth Portsmouth Preston Ripon Salford Salisbury Sheffield Southampton St Albans St Davids Stirling Stoke-on-Trent Sunderland Swansea
Truro Wakefield Wells Westminster Winchester Wolverhampton Worcester York.